Before we get stuck into the design, it's important to plan your sales funnel, in as much detail as possible. Here's a few pointers which will really help you get it just right.
If you don't yet know what a sales funnel is, try reading this blog article here.
Know your outcome
Almost all the business and life success guru's talk about starting with the end in mind. It's a great philosophy to have, and naturally this great advice translates into building great sales funnels that work and convert prospects into customers.
Having a clear goal in mind will both focus your funnel design and help you plan your sales funnel successfully. It's worth reminding you that that your funnel is not the red pill which will magically increase sales. Rather it's a tool which is there to make your life easier, to nurture prospects, and turn them into customers.
It doesn't matter whether the goal of your sales funnel is to generate new enquiries, sell more products or get people to buy a subscription. Knowing where you are headed, and focussing on signposting them to that place is the key to a great funnel.
So make sure you always plan your sales funnel first by deciding where you're heading.
Plan your sales funnel before you build it.
It's absolutely critical if you want to be successful to plan your sales funnel in detail before you build it. Don't be lazy, spend the time at the front end and get it right from the beginning.
What I mean by this is that by planning it all out, drawing the steps, and deciding on how your sequences will work takes time.
But it takes a whole lot less time to plan it out on paper first rather than trying to tweak and fix things in your software package later on.
I've done it enough times to know that the very first place you start isn't opening your landing page builder.
I really like using draw.io to graphically represent what happens at every step, and it makes such a difference when you've actually taken the time to plan your sales funnel.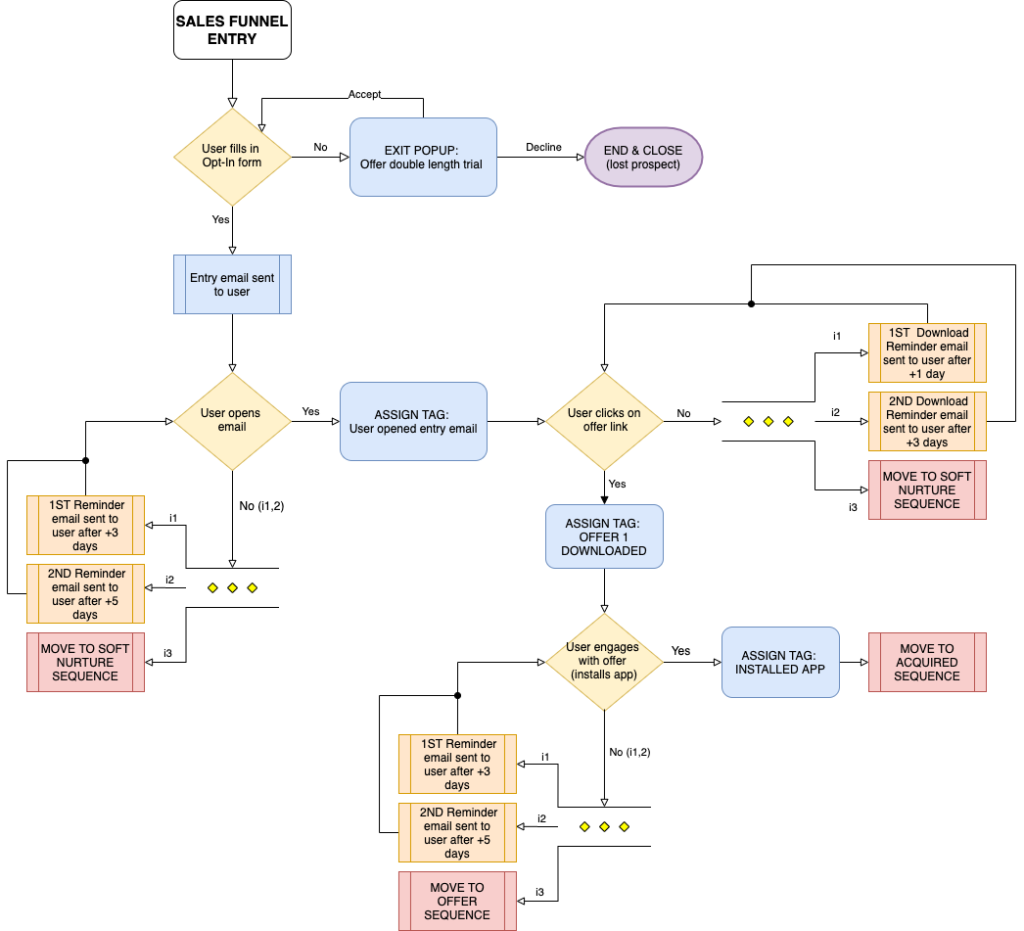 Reverse Engineer when you plan your sales funnel
Perhaps counter-intuitively, it's actually helpful to work backwards from the goal by planning rightsized steps which are focussed on how to get the prospect moving through the funnel stages.

This is really important when your working with my favourite tool Kartra as elements such as forms need to be embedded into your pages.
If you've already created these elements, then you don't need to go back to that page later and edit it, saving you loads of time.
Add value to your customers
Building a relationship based on trust and establishing familiarity with prospects doesn't happen by just putting products in front of them.
It's way better to be presenting solutions and being the person prospects choose to engage with because you provide value to them.  
Nowhere is this more important than in the communications you send to your clients. It's absolutely vital that you remember this in your emails, and pen them accordingly.
Shape your funnel around your customers
Over time, we are going to analyse every part of the funnel and figure out what the bottlenecks are. Don't try to fit square pegs into round holes. If the message isn't right, prospects won't engage, so make sure you're funnel fits around them.
This means really getting to know what makes customers tick. And that's psychology, not just technology.  
Figure out what the points of pain are, as well as the common objections you may encounter. By pre-empting these, you create an atmosphere where you show you really understand your customers needs.
Have your content ready
Having the content for your communication broadcasts (your emails/sms messages) pre-written is such an important factor in. Keep on adding more content later of course, but at least get your initial content written and prepared in advance. Trying to come up with your content when you're in the process of designing your funnel will really slow everything down.
I recommend writing your content, then going back a day or so later and re-reading it to see if it still works for you.
If you give yourself enough time at the beginning you'll save yourself so much stress in the long run.
Test & Optimise your funnel…and plan to do more!
Unfortunately, many funnels fail because their developers didn't test them thoroughly. Check the analytics regularly, and really understanding what works well. Be prepared to analyse and revise what isn't working so well.
Don't test just to see if it works, continually analyse the data flow so you know what's working well… And what isn't.
This is not something that you do once, and then forget about. If you don't have the time to do it, outsource it to someone who will take care of it.
Know your strengths and weaknesses
If you're not comfortable with some aspect of funnel design then you're probably not the right person to do it. Seems simple, right? The number of people who press ahead with the DIY approach and who end up getting it so very wrong always astonishes me.
So if making a video sales letter or creating email content is not something you're great at, then get someone else to do it. Realise that when you get it right, the investment in time and money will pay dividends.
Final thoughts
I've taught a lot of people to build sales funnels, and every time I always stress this point. If you don't plan your sales funnels, preferably well in advance, you run the risk of them failing.
So take the time, work smarter not harder, and enjoy building your funnel.
If you'd like to build your own high converting sales funnel, I recommend KARTRA software. This is probably the most comprehensive and user friendly software packages you can use. And even so, always remember to Plan Your Sales Funnel!!!